5 Easy Ways To Get Your Boudoir Summer-Ready 5 Ways To Get Your Boudoir Summer-Ready
Lifestyle | 12 September 2022
Don't stay cooped up in an unbearably hot and stuffy bedroom this summer.
Look to these easy pointers to make your bedroom feel airy, spacious and cool.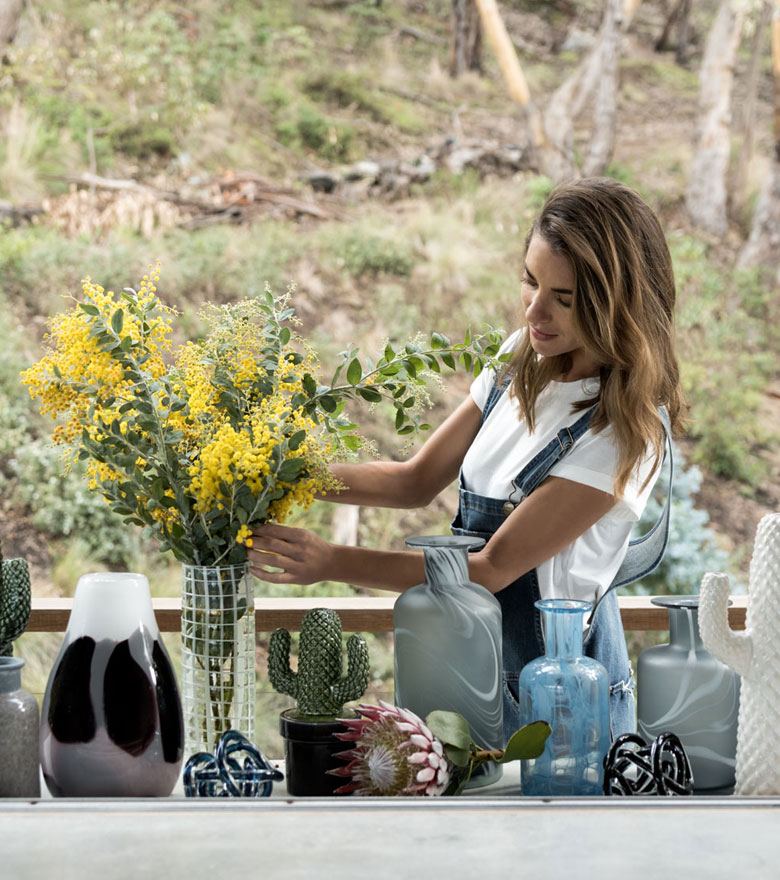 Bring the outdoors in.
Nature not only gives your room an instant and summery lift, but it also improves your sleep as it purifies that hot summer air and increases oxygen.
Look to plants that are known for reducing indoor air pollutants and humidity such as devil's ivy, peace lily, lavender, snake plant and Chinese evergreen – they also look the part too.
Try putting your indoor plants in slouchy storage baskets if you're after a change from ceramic pots. Doing so projects a more casual, textural style – perfect for a relaxed bedroom vibe.
Embrace a little retro with plant hangers. Grouped together, they make quite a statement.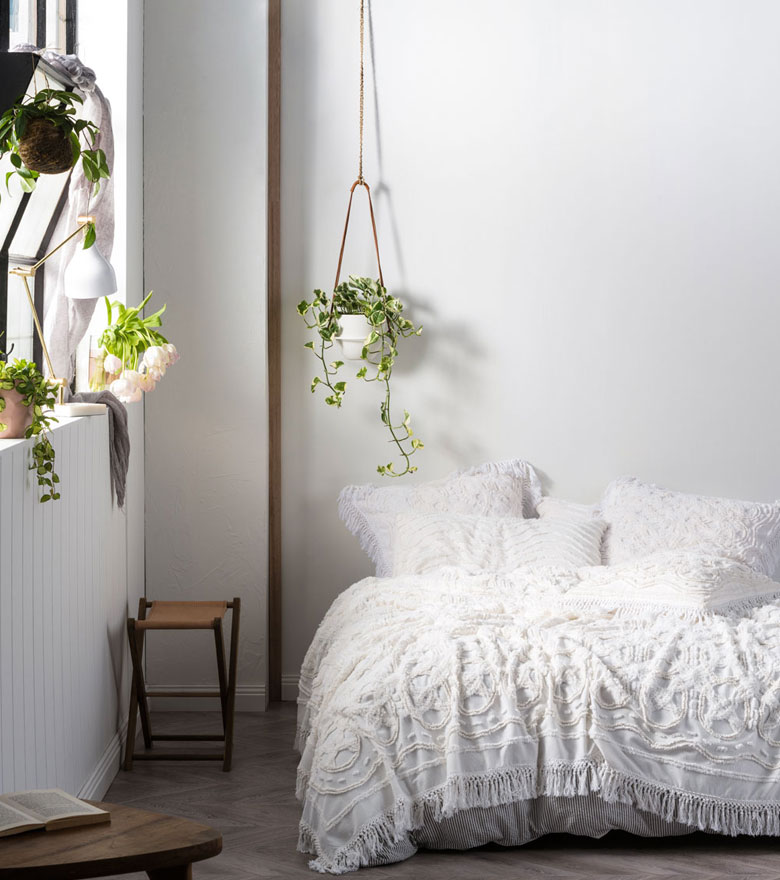 Do the switcheroo.
Opt for a coverlet or bed cover as the weather warms up.
These give your bed a cleaner look and are marvellously lightweight for those long summer nights.
Not to mention, bed coverlets and bed covers are easier to launder when you've got full days of sunshine to enjoy (and less desire to be in that dreaded laundry).
Love your doona too much to let it go? Then simply lighten your doona's GSM and pair it up with quilt cover sets made from natural fabrics like pure linen and cotton chenille.
Sheet sets constructed from bamboo or Tencel will regulate your body temperature as you sleep, keeping you cooler and dryer, for longer.
Silk pillowcases are unbeatable for hot nights and come with added beauty benefits, helping to preserve your complexion and well as prevent sweaty, tangled and frizzy locks.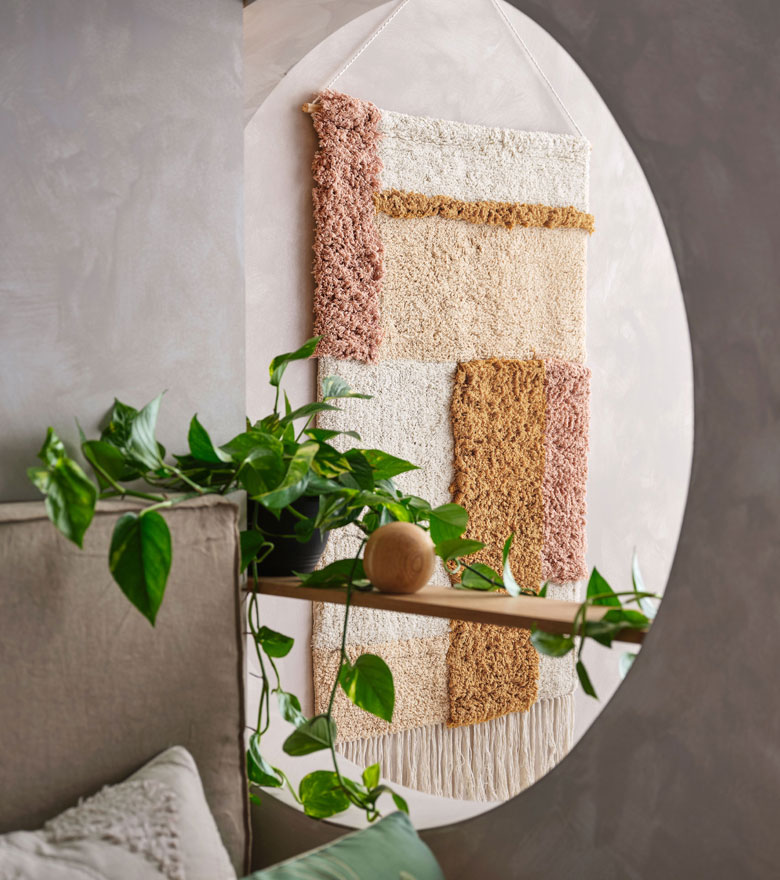 Match your home décor with your bed linen.
Work back your cushions, throws, artwork and décor with your bedding.
Reworking or adding decorative accents is one of the easiest ways to bring a colour scheme or theme together. And you get to tap into must-have colour and homeware trends on the cheap.
Macramé and tufted wall hangings work well as artwork, both softening your room and giving your walls a casual, textural charm.
Bring in vases and mini pots in varied colours and finishes for your bedside table, filling them up every few days with freshly picked leaves or flowers from around your neighbourhood.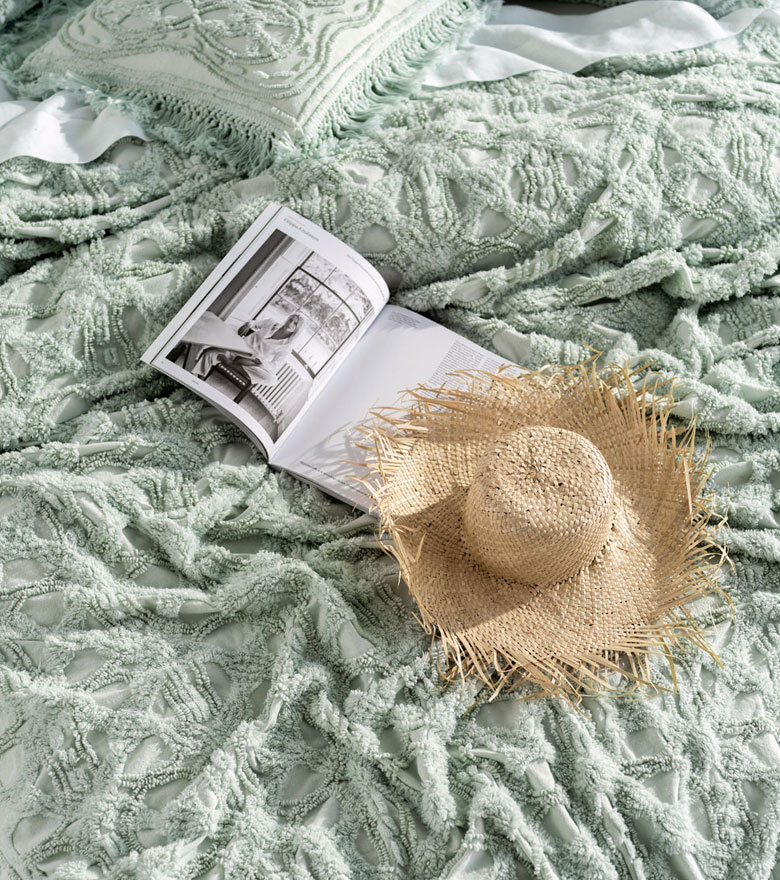 Lighten-up a little.
Invite bed linen and décor hues that are light in your room and cool on the eye.
Whites, greys, blues and soft pastels will work magic with sheets, quilt cover sets, floor mats, throws and cushion covers.
Lush, evergreen prints brimming with tropical botanicals will give the bedroom an airy and natural feel while also creating a feeling of space.
Just be cool – always cool.
Ceiling fans that don't cost a fortune have come a long way. Rattan, metal or dramatic black? There are many styles that will tie your bedroom theme together nicely without stealing any surface space.
If the idea of a ceiling fan isn't doing it for you, well-designed portable electric fans can also make a statement, whether on your side table or any other bedroom surface.
Find interesting chairs or a vintage side table and make the lamp its hero. You can find them in varied colours and styles.
Whatever you do this season, make sure your sleep allows you to recharge for more days by the pool, water's edge or anywhere that creates memorable summer holidays.
Shop this story >
Shop our colourful range of vases here.
Shop our range of planters and pots here.
Shop our much-adored collection of Somers here.
Shop our wall art here.
Shop our Nimes pure linen bedding here.