How To Achieve A Quintessential Grazing Board The Quintessential Summer Grazing Board
Home Hacks | 29 November 2021
Hosting season is almost in full swing. Assemble an irresistible grazer for your guests using a diverse range of cheeses and cured meats accompanied by sweet and savoury accents. The key to a memorable board? Quality ingredients in a mix of tastes, textures and colours.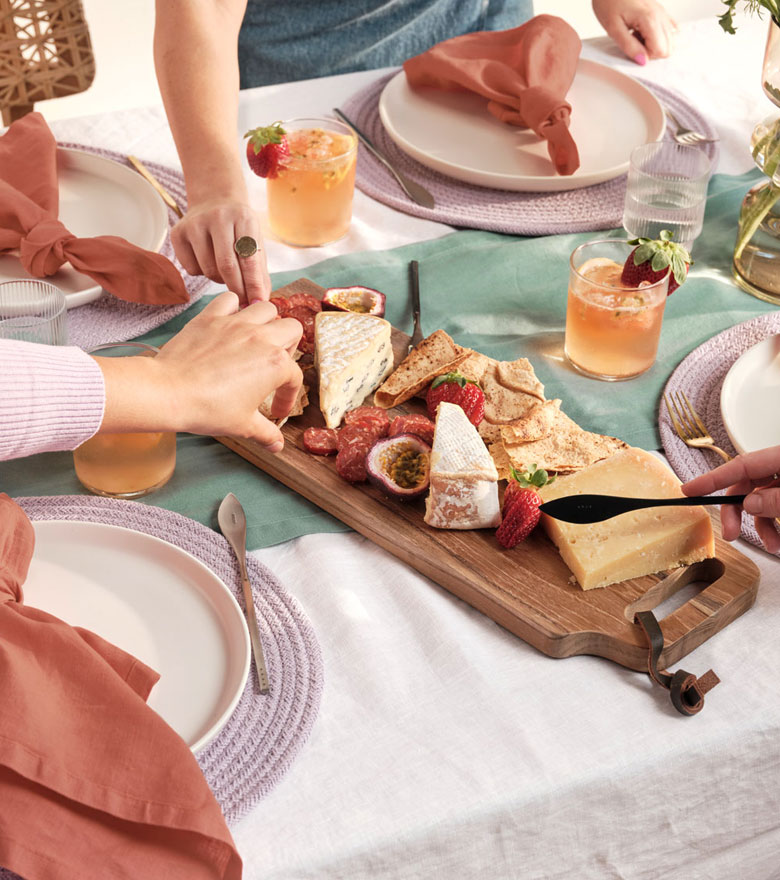 Helpful Pointers
The host: choose a tray, plate or cutting board that's square, round or rectangle in shape. Anything works, be creative and make it fun.

2-3 quality cheeses: spoil your guests with a variety of textures: soft, firm, aged, fresh or blue – always blue.

2-3 cured meats: salami, prosciutto, chorizo, sopressa and mortadella are all sure to tickle everyone's fancy.

Savoury: olive oil, vinegar and salt for dipping, olives, pickles, pickled vegetables and seafood, chips, pretzels, dips, quinces, tapenades and varied nuts are all fabulous.

Sweet: fresh and dried fruits, preserves, chutney, and whatever you do, don't make the fatal mistake of forgetting chunks of chocolate!

Breads: sliced baguette, bread sticks and crackers in different shapes and flavours will keep the grazing in full swing.

Garnish: for a chic finishing touch, fresh flowers or herb sprigs look the part and create lovely texture.

Finally: knives, spoons, forks, toothpicks as well as a stylish tablecloth and/or table runner with napkins to offset your spread.




BONUS RECIPE: Tangy Summer Cooler | Serves 4

Cooling, moreish and sharp-flavoured, this lovely little tipple will hold you in good stead with company this festive season and summer – whether you're poolside, deckside or just because the moment calls for it.

Ingredients

4 handfuls crushed ice
Juice from one lemon
4 passionfruit
Soda water
120ml / 4 shots good-quality gin
Strawberries for garnish

Method

Crush your ice using either a blender or an ice crusher, then throw it into four tall glasses.

Add gin and lemon juice, then stir through the passionfruit pup.

Top the glass up with soda water.

Garnish your cooler with fresh strawberries.

Chin, chin!

Shop this story >

Shop our extensive table linen range of tablecloths, table runners, napkins and placemats here.

Shop kitchen aprons and tea towels here.

Shop for oven gloves and pot holders here.