How to style your pillows How To Style Your Pillows
Lifestyle | 26 April 2021
Looking to elevate the look and comfort of your bed?
Tried and tested by our stylists Danielle and Grace, you'll easily nail these 5 must-do tips for arranging and layering your pillows to perfection. #1 What pillows to use.
For layering a double/queen bed, 4 standard pillows is a pivotal starting point. 2-3 Europeans, either in front or behind (subject to preference) create grandeur. For a finishing touch, you'll want 2 or so cushions and/or a bolster cushion.
Not into Europeans? Danielle insists your bed will still look sensational with standard pillows alone.
For bedtime, Grace champions a basket for all discarded pillows/accessories. This keeps everything fresh for your morning restyle.
#2 Bed size counts.
While the above advice for how many pillows accounts for larger beds, Danielle suggests single/king single beds generally only need one standard, one European and a cushion, all neatly layered.
Of course, if you're seeking more luxury, always add more. Simple as that.
#3 Symmetry or asymmetry?
Symmetry appeals to those who adore a neat and straightforward aesthetic, allowing your eye to travel to other bedroom elements, such as statement décor in the form of a lamp or artwork, or furniture such as a bedhead or armchair.
But if your flavour is a less structured and casual look, asymmetry is key. Consider odd rather than even numbers for how many pillows and cushions to use. When styling, give one side of your bed a pillow or cushion more than the other to create an "L" shape, which gives the bed a more relaxed look that still honours a stylish balance.
#4 Layer up.
Allow accessories to give your pillow-styling the complement it deserves.
Be it cushions, bolsters or even novelty cushions for some fun, these will draw the eye in to your efforts.
Throws and blankets look the part too, and can finish off a pillow colour or design story perfectly.
#5 Quick fluffing, 101.
To achieve pillow-fluffing greatness each and every time, take both left and right sides of your pillow and hit the pillow down against your thighs. Rotate and repeat.
Puff down the pillow's centre to your desired puffiness and give it a light "chop" in the middle for added drama.
Good luck and happy styling.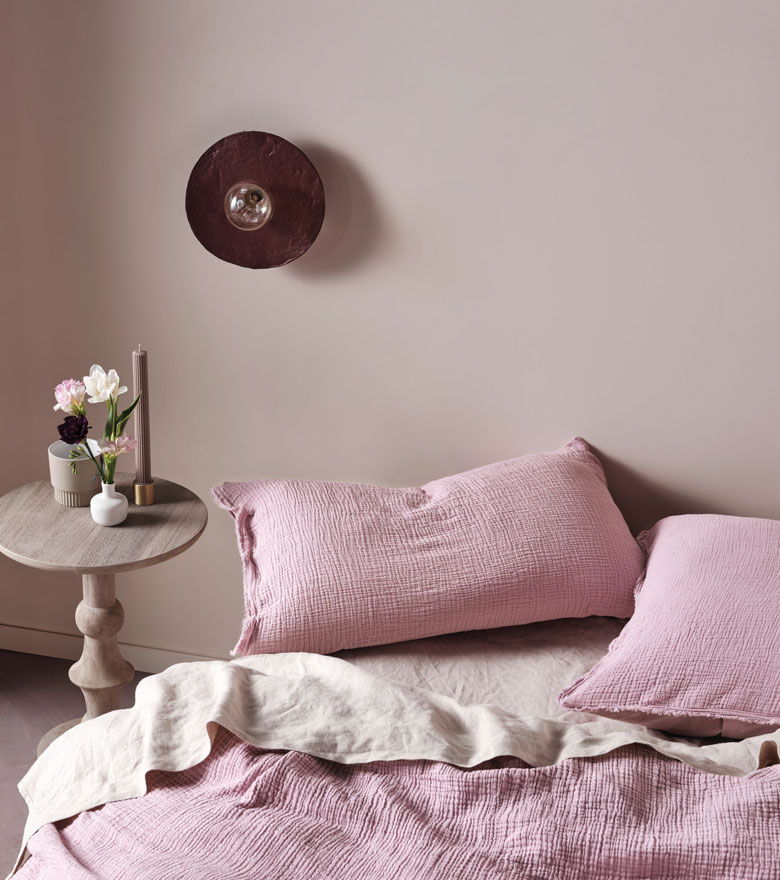 Shop this story >
Shop Adalyn, our double-jacquard bed linen designs here.
Shop Briony, our sherpa-like chenille come yarn-dyed stripe here.
Shop Elysian, our triple-jacquard design constructed from fine cotton voile here.