BAR SAVARIN RECIPE: Sardines On Toast RECIPE: Sardines On Toast
Home Hacks | 20 May 2022
We've teamed up with our great friends at Bar Savarin – owners of a super-chic new restaurant and wine bar close to our Heatherton quarters – to share some of their most-adored dishes from their menu.
These local legends know their food: they're all about sourcing high-quality produce that's most importantly delicious, while using interesting flavour combinations with just the perfect wine accompaniment.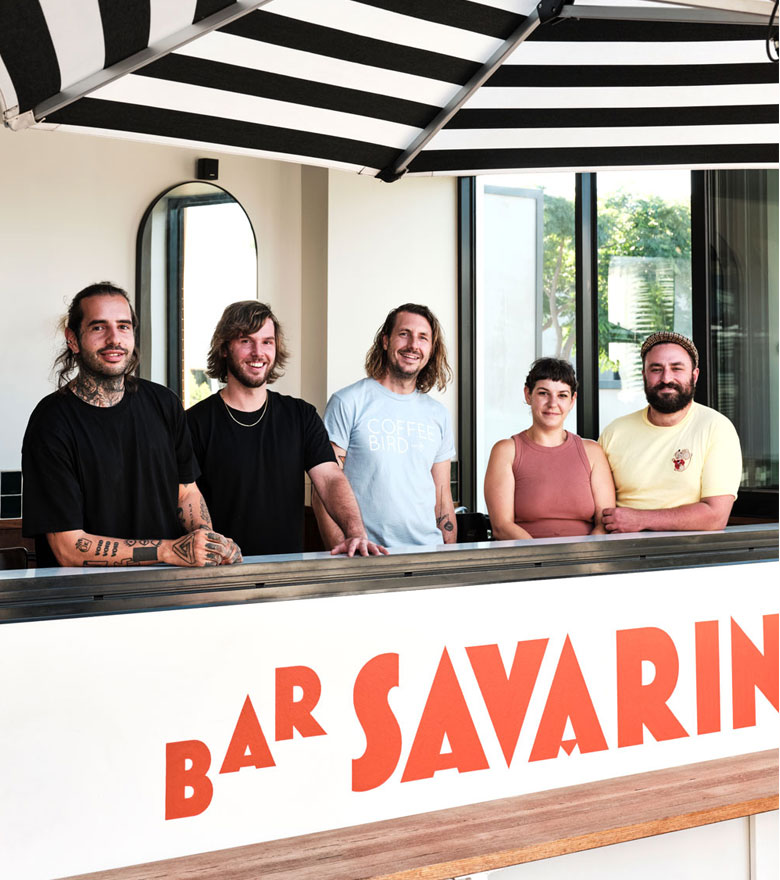 This dish is a simple starter that champions simple ingredients to impress your tastebuds, as well as your guests. Whatever you do, don't let the sardines intimidate you if you're not familiar with them – it's a divine mix worth a try.
Sardines On Toast | Serves 2
Ingredients
1 tin sardines in olive oil
1 sourdough baguette
1 orange
1 garlic clove, peeled
Method

Drizzle olive oil on baguette, and cook face-down on a chargrill, barbecue or hot skillet (chargrill lines are your friends here).
Once cooked, rub garlic clove across bread until aromatic.
Load up each piece of bread with your sardines, being sure to include oil from the tin.
Squeeze orange cheek on top – and devour.
This dish works well with a salad of fennel and radicchio for a larger meal, as opposed to a snack.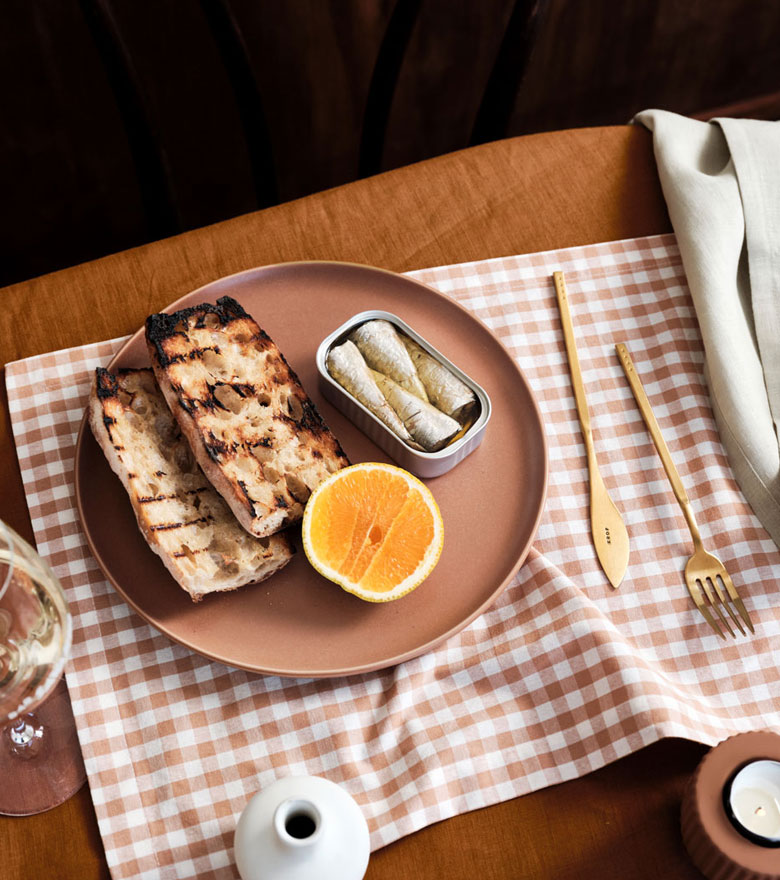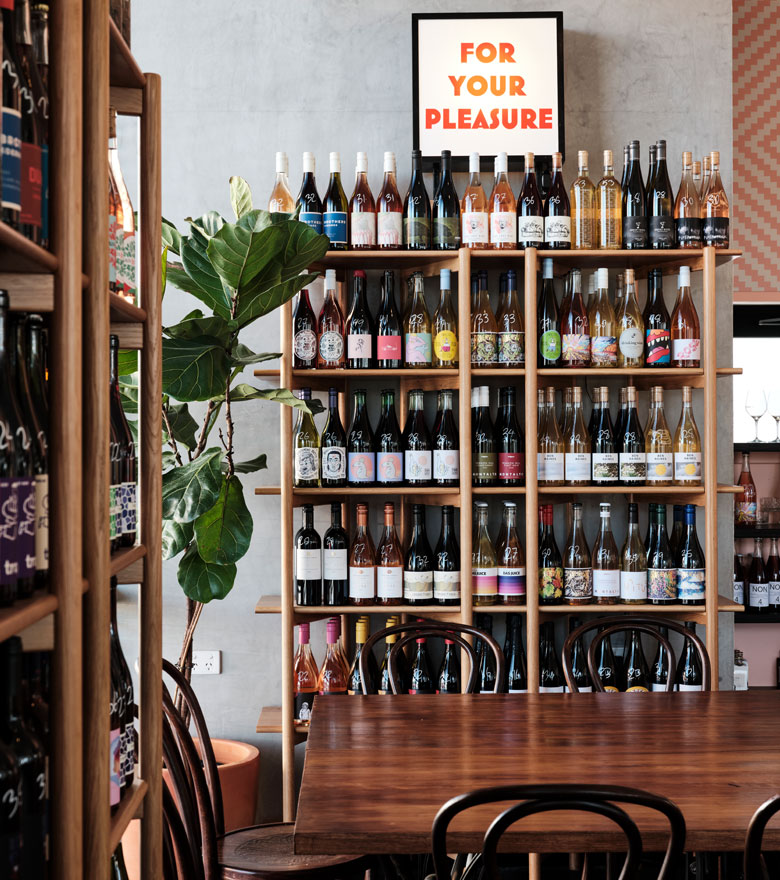 Notes

Spend the extra – get your hands on a quality tin of sardines from Spain or Portugal that comes in quality olive oil.
Anchovies in olive oil is a perfect substitute to sardines. Bar Savarin recommends Ortiz.
Wine Pairing

Express Winemakers, L'Orange – an orange Riesling and Semillon blend.
Bar Savarin is located at 132 Keys Road, Cheltenham, Victoria, 3192.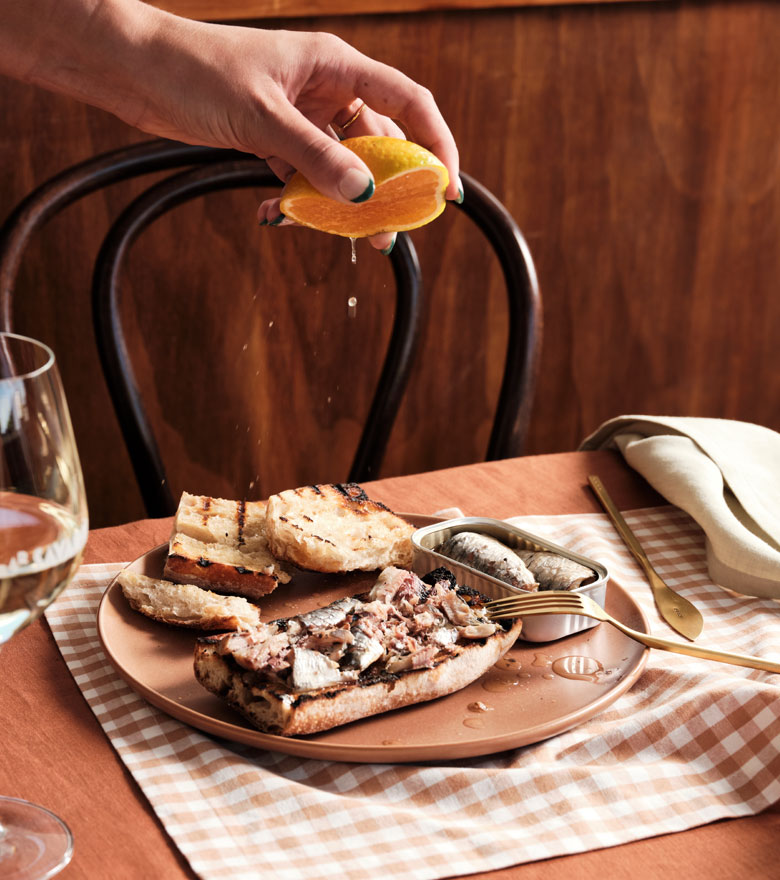 Shop this story >
Shop our extensive table linen range of tablecloths, table runners, napkins and placemats here.