The origin of a company begins with an idea based on a desire to create, followed by a need to be savvy and take a lot of risk. Couple this with determination, experience, honesty and a strong work ethic, and you are halfway there.
Then you need to build your team.
Linen House was founded in 1993 and is the creation of Gordon and Michele Duncan. Gordon learnt his trade at MYER in Melbourne, and was working for a New York textile company when he met Michele on a blind date in Chicago. After a stint working together in New York, they returned to Australia – married, and with their first child Scott on the way. Two sisters, Claire and Ava, followed soon after. All family members work in the business to this day along with an impressive and loyal team of highly skilled and motivated individuals who together make up the Linen House family.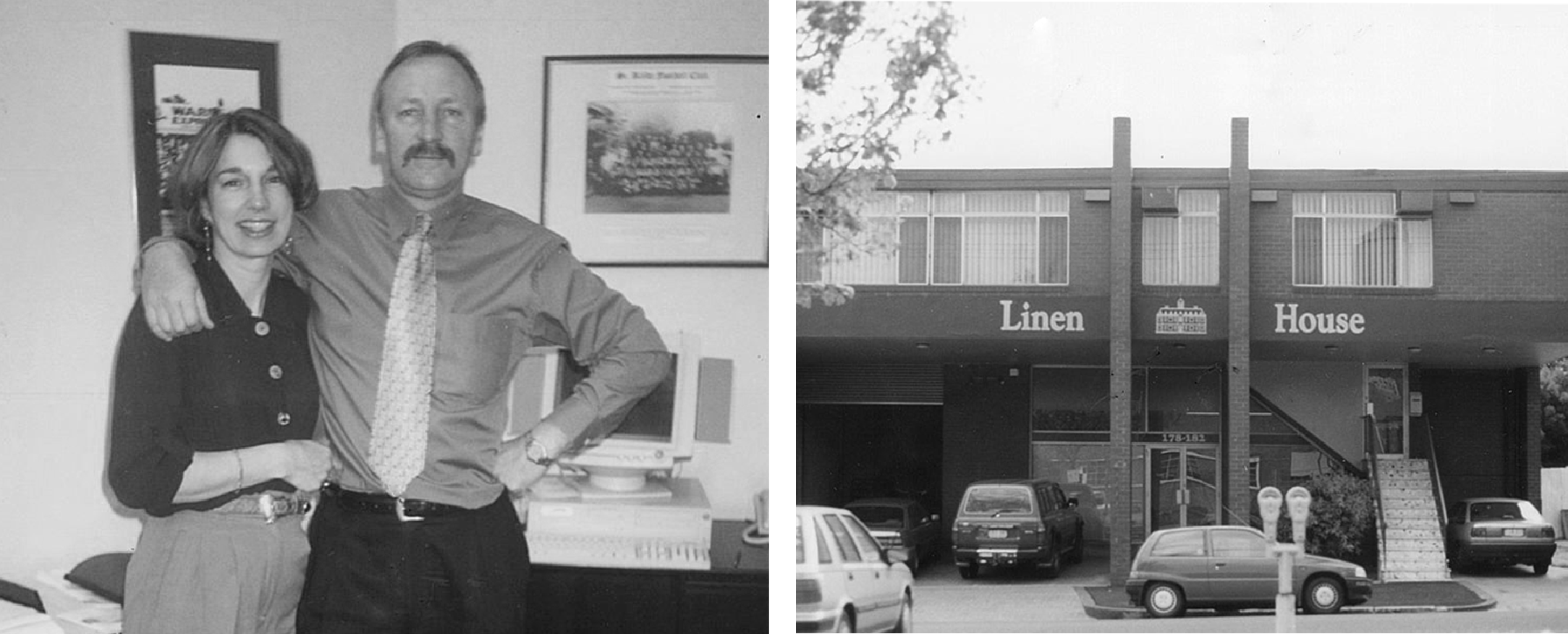 Gordon and Michele at the first Linen House office in Melbourne, 1993.
Linen House is driven by our values, quality manufacturing and a love for beautiful design and products. Our enduring success lends itself to staying creative in a competitive market, maintaining design integrity and manufacturing quality products while remaining 100% Australian-owned.
Much to the delight of so many bed linen and homewares devotees, Linen House launched its now-thriving online store in 2013 followed by numerous outlet shops, treating all Linen House lovers to a bricks-and-mortar experience never seen before.
At Linen House we take pride in knowing that our products are the last thing our customers see and feel before drifting off and the first thing that brings them into a new day. Everything we design has an intimate connection to the families and homes they live in.
Feel at home with Linen House.
The worldwide textile industry is really very small, once one gets to know it.
Every year an international textile trade fair takes place in Frankfurt, Germany. Here buyers, designers, suppliers and brands come together to present their latest ranges, work together, purchase artwork, and establish new contacts. Representatives from Linen House have visited this fair for over 27 years, and exhibited there three times.
Following this international trend, Linen House has formed relationships with people and companies in several countries. We pride ourselves on long-standing involvement with manufacturers from China, Pakistan, India, many of them family businesses.
As we have grown, so have they.
Crossing paths led Linen House to establish partnerships with families from New Zealand and South Africa. Linen House NZ was formally created in 2000; Linen House South Africa in 2005. The Melbourne design team produces the majority of new fashion designs (two ranges are created each year – Spring/Summer and Autumn/Winter collections). Our partners visit the Melbourne showroom to select designs for their markets, as well as sharing with LH Australia new developments or products they have come across. We share IP, and therefore the Linen House look remains constant across the continents.
During the course of the Linen House company history there have been several design collaborations; with both renowned overseas designers as well as a wide and diverse group of Australian designers. We are also fortunate to have a world-class design studio, who create the majority of our designs. Many of our designers have graduated from RMIT, where Linen House runs a sponsorship program.

Since 2000, Linen House has collaborated with fashion designers to bring their ideas to the home textile market. Here are a few examples of the past collaborations: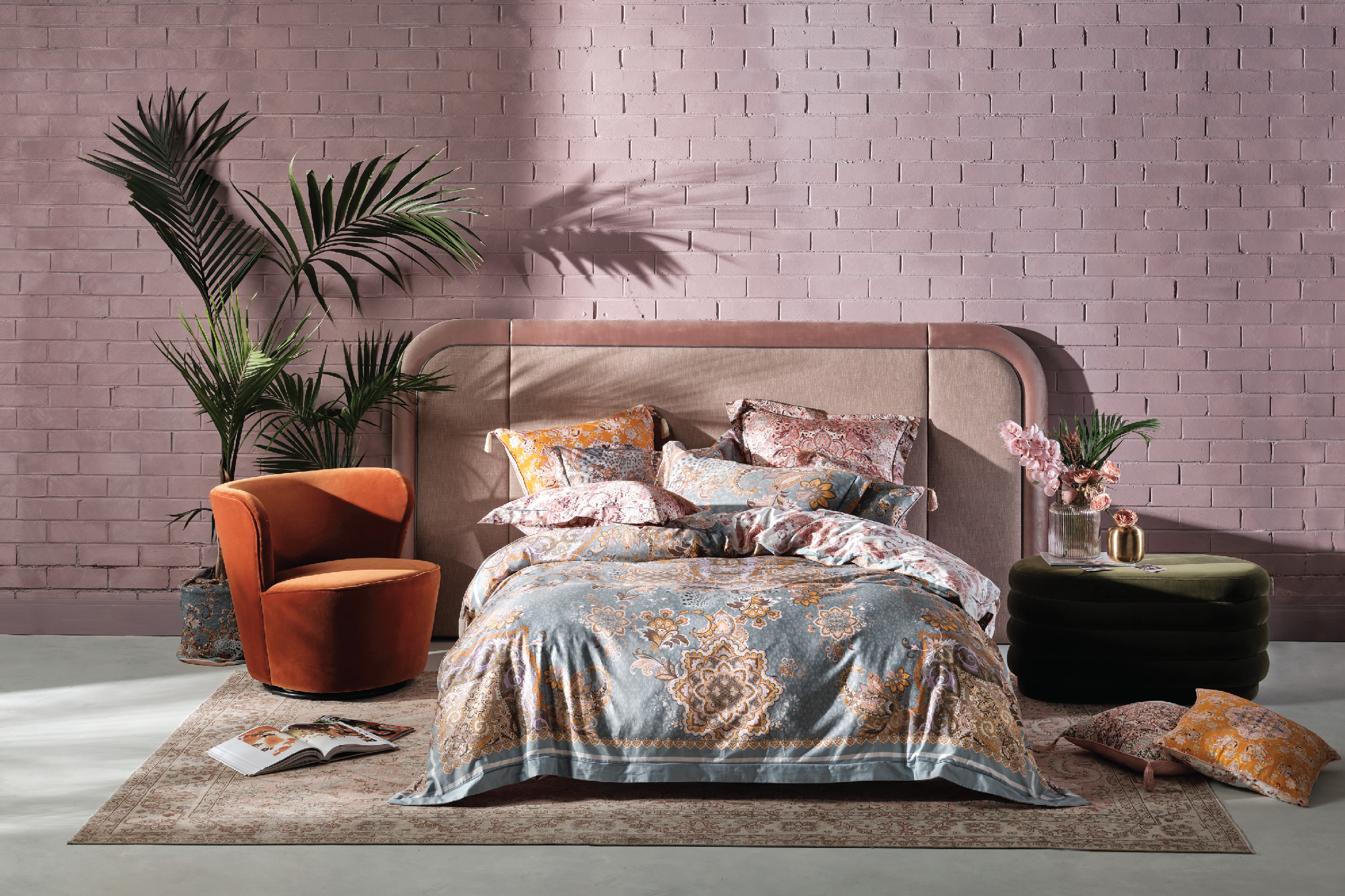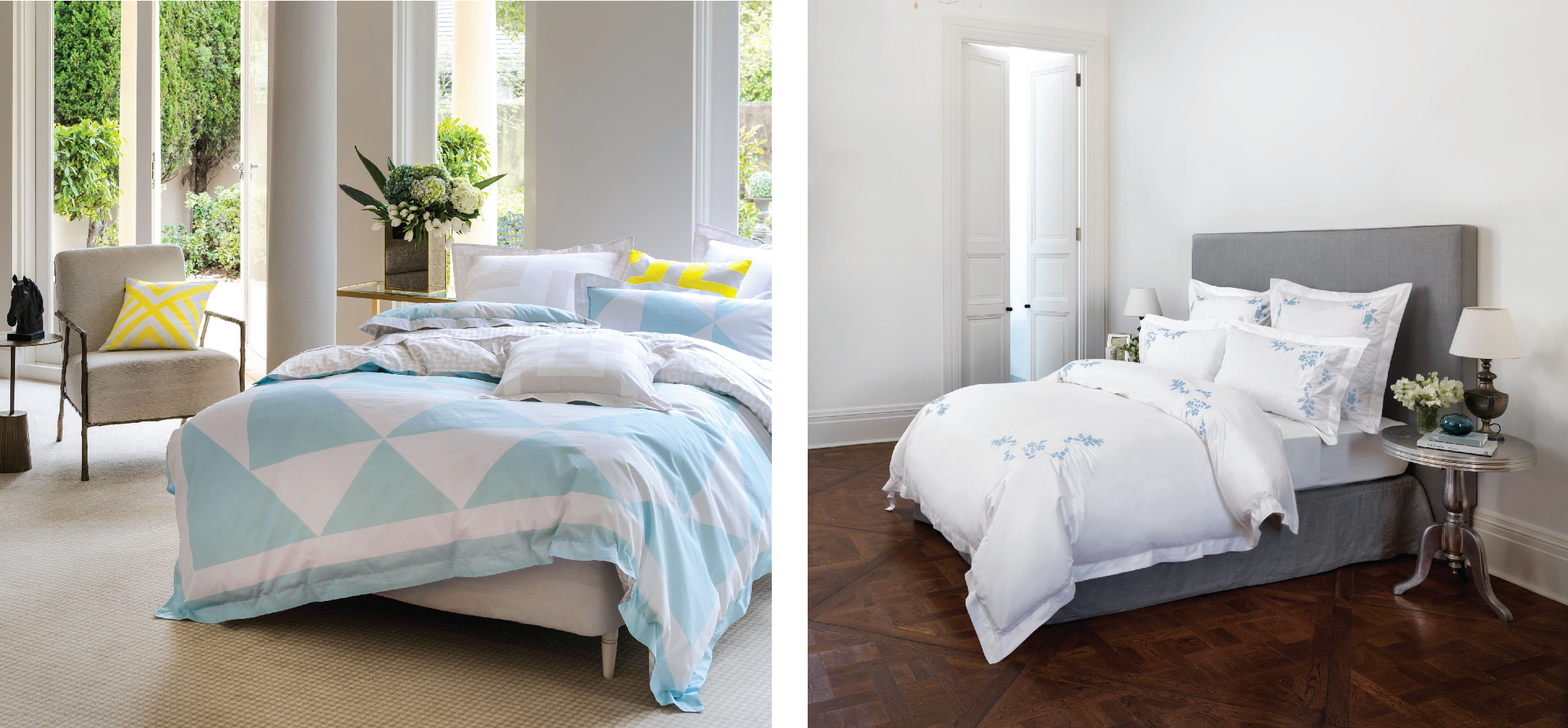 Linen House initially made it on the map thanks to its much-adored collaboration with little-known artist (at the time) Cathie Maney. Her notable seaside paintings seen on our bedding, bathroom accessories and other homewares found their way into almost every holiday-home in Australia. It proved to be the most successful designer range ever developed in Australia, with retail sales in excess of A$50 million. This collaboration smashed the market, thanks to Maney's wonderfully fresh, naïve, seaside hand-painted look.
This iconic and highly recognised English fabric, wallpaper and homewares brand was established in 1970 in London by Tricia Guild and has since captured the admiration of devotees worldwide. Linen House represented Designers Guild in Australia, New Zealand and South East Asia for over 12 years under license, bringing the brand's revered artistry, innovation and creativity to the bedrooms, bathrooms and living rooms of many.
In keeping with his traditional flair of refined tailored edges and decorative borders, all inspired by his Greek heritage, celebrated Australian fashion designer and television presenter Alex Perry's palatial collections with Linen House each embraced a subdued ambiance while retaining his show-stopping geometrics and elegant details, which delighted many customers and helped to inspire that bold, master-bedroom statement in many homes.
Linen House was pleased to introduce iconic Australian fashion designer Collette Dinnigan's first and exclusive bed linen and homewares collection in 2017, inspired by her extensive travels throughout Europe. Reflecting her passion for antique textiles and fabrics, Collette expressed this beautifully within her range using quality cottons combined with designs and details that were both feminine and crisp, with a subtle Bohemian style.
Customers across Australia are delighted to experience two superbly luxe collaborations with Australian fashion designer and artist Camilla Franks. Her iconic caftan prints and intricate colour palettes have transcended stunningly to the bedroom, each inspired by her love for travel, meticulous detail and artisan craftmanship.
---
Here at Linen House, we'll endeavour to collaborate further with like-minded creatives. Be sure to always keep an eye out for more of these incredible partnerships that support Australian brands.