RECIPE: Wholesome Chicken, Leek & Mustard Pie RECIPE: Wholesome Chicken, Leek & Mustard Pie
Home Hacks | 22 April 2021
Yet another effortless, mouth-watering and wintery meal that's got weeknight dinners covered. Save time by preparing your filling beforehand, then pop it into your oven after a long day. This'll hit the spot every time.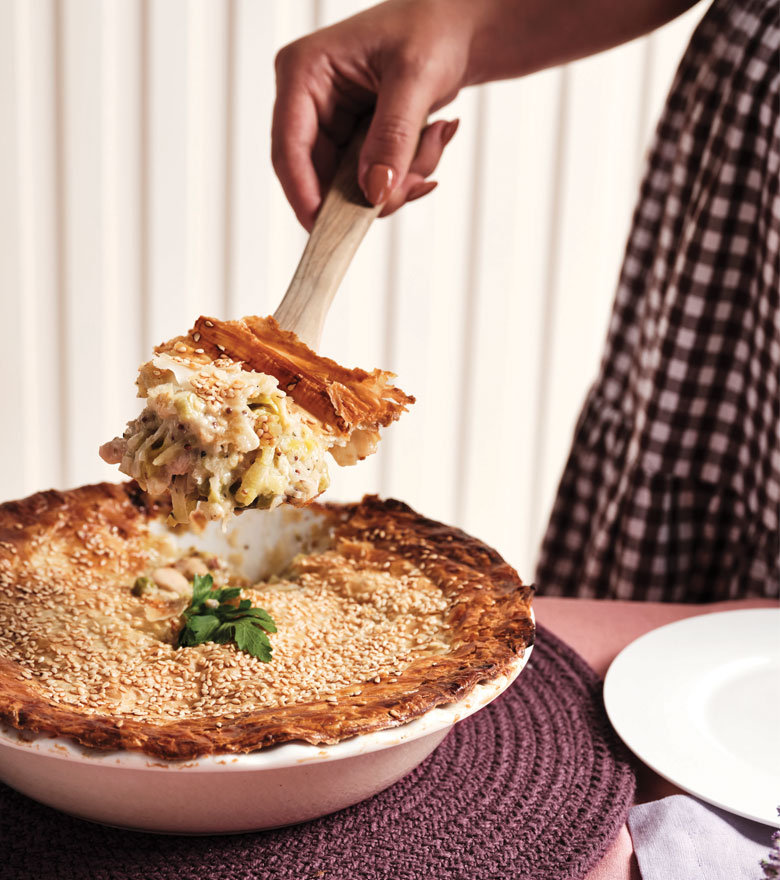 Chicken, Leek & Mustard Pie | Generously Serves 4
Ingredients | Filling
150g speck
500g chicken thigh
1 brown onion, finely chopped
2 leeks, sliced into rounds
3 garlic cloves, chopped
150g frozen peas
250ml cream
4 tablespoons wholegrain mustard
Mixed, dried herbs
Salt and pepper, to taste
Ingredients | Pastry
2 puff pastry sheets
1 egg
Sesame seeds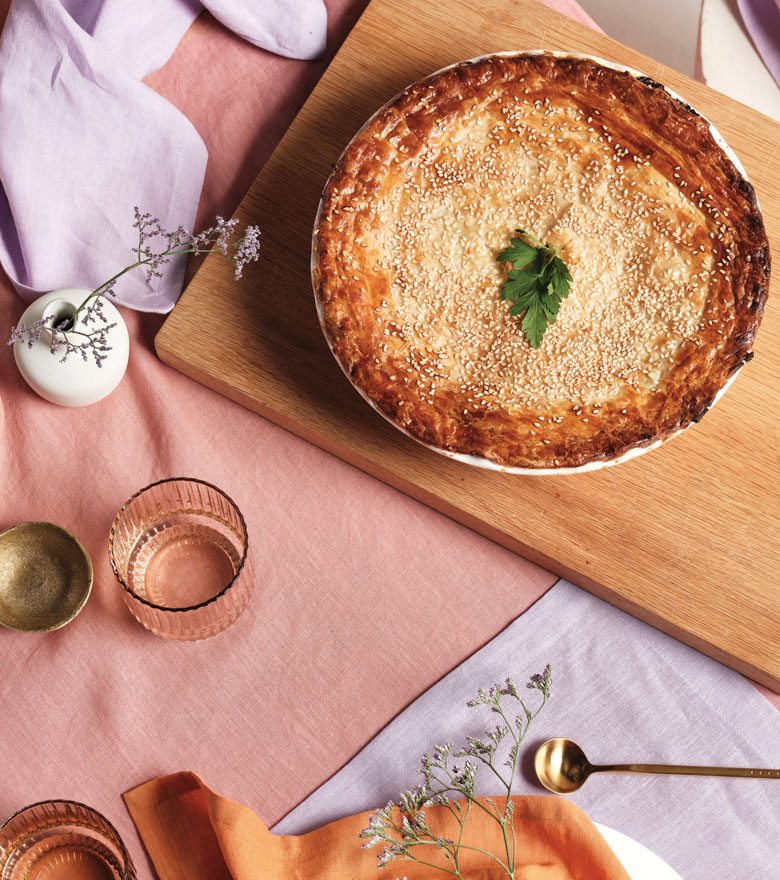 Method

Preheat your oven to 180°C.
Cut speck into 1cm cubes and place into a cold saucepan to render its fat. Cook on medium-high until golden-brown. Transfer to a bowl.
Chop chicken thigh into cubes, coat with mustard and sear in the same saucepan used to render the fat. Transfer to speck bowl.
Note: more cooking time on chicken occurs in the following steps, do not worry if it's not fully cooked.
Sauté onion in the same saucepan until translucent. Add leek rounds and cook until soft and fragrant. Add garlic, cook for a further 3-4 minutes.
Return speck and chicken to saucepan, add cream, herbs, salt and pepper. Stir to combine and allow to simmer for 5 minutes. Add peas, season to taste.
Remove from heat and allow to cool. If you're time-poor, place filling into a baking tray and refrigerate or freeze to chill. A cooler filling ensures a crispy crust.
Once cooled, place filling in a baking dish. Cover with pastry and make a small slit in the centre to allow for air to escape in the oven.
Whisk egg, lightly brush pastry for a crisp, golden top then sprinkle with sesame seeds.
Cook for 30 minutes or until pastry is golden-brown.
Serve with a fresh, leafy-green salad and devour.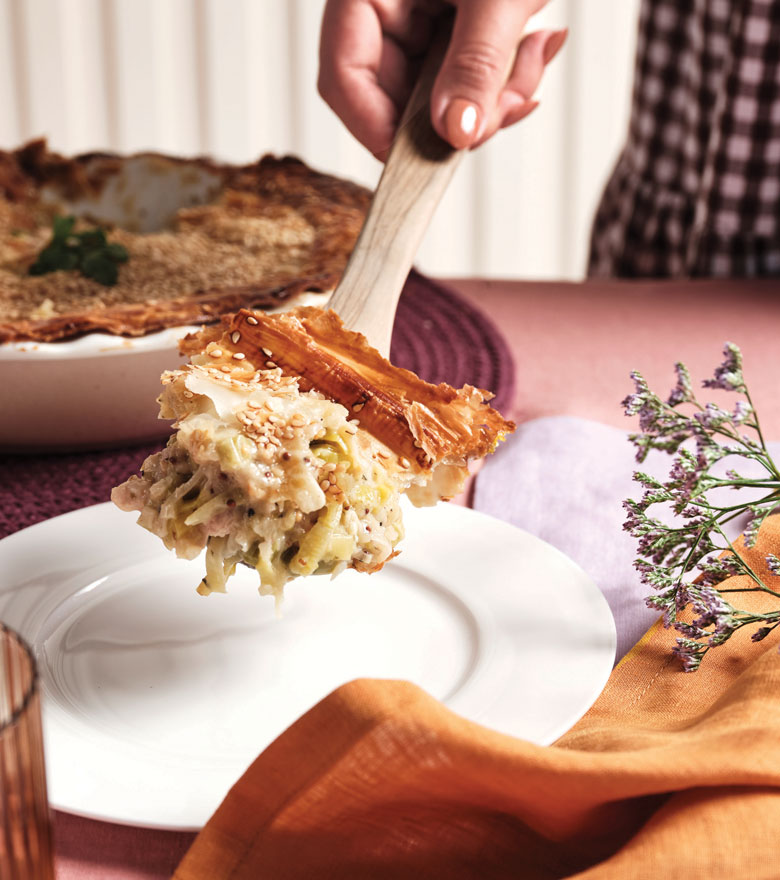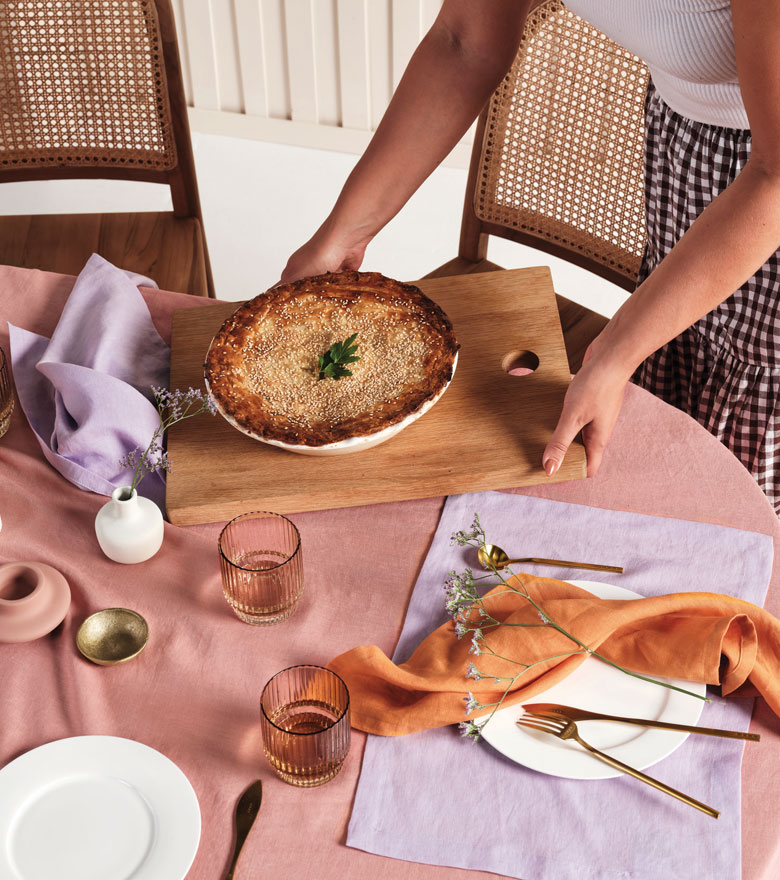 Shop this story >
Shop our extensive table linen range of tablecloths, table runners, napkins and placemats here.
Shop kitchen aprons and tea towels here.
Shop for oven gloves and pot holders here.
Find your next stylish servingware here.
See our Alta porcelain loose dinnerware range here.